Desert Of The Bones

Creator:

Story Number:

S1.10

Doctor:

eleventh Doctor

Companions:

Enemy:

Setting:

Dusk Springs, 2087

Previous Story:

Following Story:

N/A
Desert Of The Bones
is the tenth episode of the
first Series
.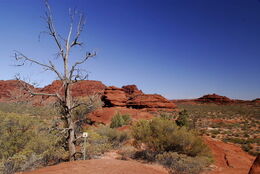 The TARDIS crew take a trip to the Australian Outback. They find themselves in the small town of Dusk Springs, where people have started going missing. Some are seen being dragged into the desert, and some just vanish, leaving behind a pile of sand. The Doctor, Amy and Rory soon discover that there is living sand in the desert, sand that can form bone. Can they stop the 'sand skeletons' from taking the whole town?
Ad blocker interference detected!
Wikia is a free-to-use site that makes money from advertising. We have a modified experience for viewers using ad blockers

Wikia is not accessible if you've made further modifications. Remove the custom ad blocker rule(s) and the page will load as expected.