The Death of a Friend

Created By:

TheTrueDoc

Story Number:

S1.5

Doctor:

Eleventh Doctor

Companion(s):

Amy Pond
Rory Williams
Luke Smith (Guest)
Rani Chandra (Guest)
Clyde Langer (Guest)
Sky Smith (Geust)

Enemy:

The Trickster

Setting:

London 2011

Prvious story

Forgotten Monsters

Following Story

Desert Of The Bones
The Death of a Friend
is the ninth episode of the
first Series.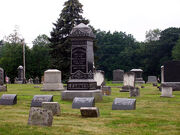 One of the Doctor's best friends passes away.But at the funeral an old enemy is waiting for the perfect opportunity to attack.
To Be Added...
Ad blocker interference detected!
Wikia is a free-to-use site that makes money from advertising. We have a modified experience for viewers using ad blockers

Wikia is not accessible if you've made further modifications. Remove the custom ad blocker rule(s) and the page will load as expected.